When you know how to properly clean your iron it can make pressing and steaming your clothes far easier and more productive. It always helps to use a sturdy, versatile iron to make the job easier all around.
Your iron can become dirty and clogged because dirt, sprays, and fibers build up over time on the soleplate of your appliance with regular use. Maintaining your iron can prevent mishaps like sticking to fabric, spraying dirty water on your clothing, or heating up too high or not enough. So here is a quick guide to cleaning your iron the right way.
How Often to Clean Your Iron
Cleaning your iron really depends on how often you use the iron and the products you use, like starch or sizing, each time. However, your iron should be flushed to remove mineral deposits at least a few times each year.
When you see a dull film or build-up on the surface, you know it's time to clean it. Remember to check that the iron is turned off, unplugged, and completely cool before you clean!
Clogged Steam Vents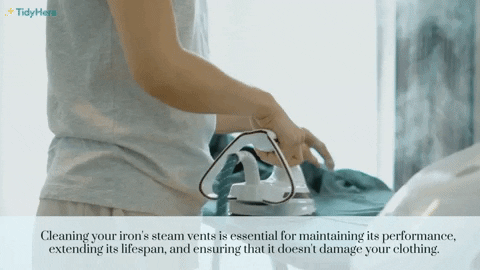 If you have a steam iron that sputters and leaves mineral-filled or rusty water spots on your clothes, it means the steam vents are clogged and the iron needs a good cleaning. The best thing to use is distilled white vinegar, which is gentle and less expensive.
Mix the Cleaning Solution
✨ Mix 1/2 cup of distilled white vinegar and 1/2 cup of distilled water.
✨ Pour the mixture into a cool, unplugged iron.
Inspect the Steam Ducts
✨ With the iron in an upright position on a sturdy surface, inspect the steam ducts.
✨ If you can see any white residue in the holes, use a wood or plastic toothpick or old toothbrush to clear away the build-up. Never use anything metal that could scratch the soleplate.

Heat the Iron to Create Steam|
✨ Next, plug in the iron, turn it on, and set it to the steam feature.
✨ Allow the iron to heat for at least five minutes.
✨ Depress the steam button and hold for 20 to 30 seconds or until steam flows out freely.
✨ Do this at least six times.

Cool and Empty the Iron
✨ Turn off the iron, unplug it, and allow the iron to cool completely.
✨ After cooling, empty any remaining vinegar and water mixture from the iron's reservoir.

Basic Cleaning

The iron's soleplate should never be scrubbed with anything harsh that can cause scratching. Once the finish is marred, it is nearly impossible to prevent rusting or staining. The soleplate can get gummy and soiled by starch or sizing residue and should be cleaned regularly.
Mix a Cleaning Solution
✨ Mix table salt or baking soda with a bit of distilled white vinegar to make a paste.
✨ If you choose baking soda, the vinegar will cause it to foam, so mix it in a bowl large enough to contain the foam.
Scrub the Soleplate
✨ Dip a clean white cloth into the mixture and use it to scrub the soleplate.
✨ Some areas will need a bit of elbow grease to remove the grime.
✨ For really stuck-on build-up, allow the paste to sit for at least 10 minutes before scrubbing.

Rinse the Soleplate
✨ Rinse the soleplate by using a clean white cloth dipped in clear water.
Freeze the Plastic
✨ Unplug and cool the iron.
✨ Fill a shallow pan with ice cubes and place the melted plastic-stained part of the iron on the ice.
✨ Let it sit for five to 10 minutes to harden the plastic.
Scrape Away the Plastic
✨ Use a blunt plastic knife or the edge of an old credit card to scrape away the hardened plastic.
Clean the Soleplate
✨ Mix table salt or baking soda with a bit of distilled white vinegar to make a paste.
✨ Gently scrub the soleplate to remove any plastic remnants left on the surface.
✨ Rinse with a clean cloth dipped in fresh water.
Remove Melted Plastic From Fabrics
✨ If the plastic has transferred to the clothes you're ironing, place the fabric in the freezer for at least one hour.
✨ Use the same technique of a dull plastic knife to gently scrape away the plastic. This will be a slow process and may not remove the plastic completely.
Removing Stains
✨ Turn off, unplug, and allow the iron to cool down.
✨ Gently rub a small amount of paste made from baking soda and water.
✨ Use a cotton swab with white vinegar to clean out the holes of stains.
✨ Use a melamine eraser to remove tough stains from an iron.

Tips to Keep Your Iron Clean Longer
✨ Tap water contains minerals that can clog, corrode, and damage the iron, resulting in rusty water. Always try to use distilled or bottled water when filling an iron.
✨ The iron's water reservoir should be filled when the iron is cool and before it is plugged in.
✨ After ironing, when the iron has cooled, empty the reservoir before storing the iron. This is important if you don't iron frequently.
✨ Storing your iron in an upright position will prevent any leaking of water and it will prevent the soleplate from becoming scratched or corroded.
✨ To protect your soleplate from damage, never iron over plastic zippers, metal zippers, snaps, hooks, pins, screen printing, or decals without using a pressing cloth.
FAQs
Why is there black gunk on my iron?
The black gunk is the build-up of burnt fibers, dirt, dust, spray starch, and other substances that accumulate on the surface while ironing.
How do you clean a burnt iron with toothpaste?
Non-gel toothpaste can be buffed onto an iron to help remove burnt marks due to the paste's slightly abrasive nature. This will help polish marks away without damaging the plate.
Why is my iron spitting out brown stuff?
If your iron's steam function is leaving brown spots on your clothing, this means there is rust in the reservoir. Run a white vinegar-water solution through the reservoir until you see steam flowing properly.
Ready for your next cleaning project? Check out our blog for more cleaning hacks or contact us today and book for your apartment and home cleaning needs!